---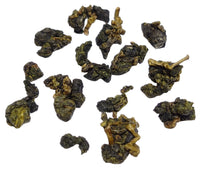 セール
Gaoshan Qingxiang Taiwan Lishan High Mt. Oolong (Wulong) Tea Loose Leaves
jLteaco
Gaoshan Qingxiang Taiwan Lishan High Mt. Oolong Tea Loose leaves 
Item: Gaoshan Qingxiang Oolong (Wu Long) Tea 
Pack size: 1 x 150g (5.3 oz) loose leaves in 1 vacuum-sealed foil bag
Cultivar: Qingxing Oolong  
Features: 
Oolong Tea is one of the most unique and highest quality Oolong. Grown in the Li Mountains, this tea is harvested at an elevation of 1800 meters in an isolated area. Due to the cold weather and relatively harsh environments, the plants grow at a very slow rate and in small quantities. The tea is either harvested during the winter or spring and sometimes only once during the entire year. After the harvest, the leaves are carefully handled and aerated during the long ride to the nearest tea maker. Despite the difficult growing conditions, the leaves are selected as the highest quality Oolong. 
Brewing tips:
The water to steep this tea is about 85-90 degrees Celsius depending on an individual's preference. Use the ratio of 1g to 50cc (or 1g to 25cc), the first infusion time of about 6 (or 3) minutes is recommended with more or less time depending on the desired concentration. As a rough guide, the higher the temperature of the water or the greater the number of leaves used, the shorter the steeping time should be. The tea leaves should be uncurled for full flavor. 
For ultimate enjoyment, a traditional Chinese Yixing teapot is recommended for loose oolong tea. The teapot should be half-filled with leaves and initially steeped for 30 seconds (depending on an individual's preference) with the steeping time increased by an additional 10 seconds for each successive steeping. The leaves may be steeped multiple times.
Payment: 
We accept PayPal only. 
Shipping/handling: 
The item will be on its way upon receipt of cleared payment. Items are delivered in secure packaging which is as lightweight as possible. Combined shipment is welcome. 
Return Policy:
No returns are accepted on food items.