---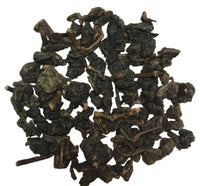 セール
Roasted TGY Taiwanese Style Ti Kuan Yin (Tie Guan Yin) Oolong Loose Tea
jLteaco
Roasted TGY Taiwanese Ti Kuan Yin (Tie Guan Yin) Oolong Tea Loose Leaf 
Item: Roasted TGY Taiwanese Style Ti Kuan Yin (Tie Guan Yin) (Wu Long) Tea 
Pack size: Per 150g +/- 5% (5.3 oz) loose leaves in a vacuum-sealed foil bag
Cultivar: Wuyi
Features:  
Roasted Taiwanese TGY, adopted Wu Yi cultivar, and produced under Taiwan traditional technique standards (the most complicated and time-consuming processing) of 

Tie Guan Yin

, medium fermented also deep roasted, traditional Ti Kuan Yin Oolong tea is leading out a unique Kuan Yin aroma differing greatly from the Chinese one, greatly presenting authentic Taiwanese flavor of Ti Kuan Yin. The thick texture and strong flavor with roasted smell are what you, roasted tea lovers won't miss out on. 
Brewing tips:
The water to steep this tea is about 90-95 degrees Celsius depending on an individual's preference. Use the ratio of 1g to 50cc (or 1g to 25cc), the first infusion time of about 6 (or 3) minutes is recommended with more or less time depending on the desired concentration. As a rough guide, the higher the temperature of the water or the greater the number of leaves used, the shorter the steeping time should be. The tea leaves should be uncurled for full flavor. 
For ultimate enjoyment, a traditional Chinese Yixing teapot is recommended for loose oolong tea. The teapot should be half-filled with leaves and initially steeped for 15 seconds (depending on an individual's preference) with the steeping time increased by an additional 5 seconds for each successive steeping. The leaves may be steeped multiple times.
Payment: 
We accept PayPal only.  
Return Policy: 
No returns are accepted on food items.