---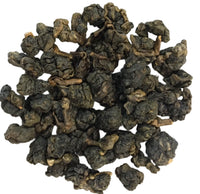 Sale
Qing Tian Xiang Taiwanese Medium Dong Ding Oolong Tea
jLteaco
Sale price $35.20 Regular price $38.72
Qing Tian Xiang Hand-plucked Medium Dong Ding Oolong Tea Loose leaves
Item: Qing Tian Xiang Taiwanese Medium Dong Ding Oolong (Wu Long) Tea      

Pack size: Per 150g +/- 5% (5.3 oz) loose leaves in a vacuum-sealed foil bag

Cultivar: Qingxing Oolong
Features: 
Qing Tian Xiang (means slightly fruity flavor), the hand-plucked leaves of Dong Ding Oolong are grown in the Nantou region of Taiwan at an elevation of 800 meters. The leaves absorb moisture from the surrounding fog and clouds every morning and afternoon which is ideal for Oolong plants. Due to the unique geographic location and stringent selection of leaves, this is the finest Dong Ding Oolong from the Nantou tea estate. The traditional roasting technique applied by tea artisans with proper fermentation and medium roasting procedure creates an unforgettable extremely perfect flavor. 

The tea flavor changes over infusions which can only be experienced by individuals

. Firstly tasted mellow with a mild fragrance and then a sweet aftertaste quickly rising from the throat making it famous for decades all over the world. This tea is perfect for people who don't prefer the lighter taste (green oolong) or the stronger taste of heavily roasted oolong tea, drinking Medium Style Dong Ding Oolong Tea is definitely an exclusive choice and also an enjoyable lifestyle for all tea lovers. 

 
Brewing tips:
The water to steep this tea is about 90-95 degrees Celsius depending on an individual's preference. Use the ratio of 1g to 50cc (or 1g to 25cc), the first infusion time of about 6 (or 3) minutes is recommended with more or less time depending on the desired concentration. As a rough guide, the higher the temperature of the water or the greater the number of leaves used, the shorter the steeping time should be. The tea leaves should be uncurled for full flavor. 
For ultimate enjoyment, a traditional Chinese Yixing teapot is recommended for loose oolong tea. The teapot should be half-filled with leaves and initially steeped for 30 seconds (depending on an individual's preference) with the steeping time increased by an additional 10 seconds for each successive steeping. The leaves may be steeped multiple times.
Payment:
We accept PayPal only.
Shipping/handling charge (Free):
The item will be on its way upon receipt of cleared payment. Items are delivered in secure packaging which is as lightweight as possible. Combined shipment is welcome. 
Return Policy:
No returns are accepted on food items.